There are many trading strategies we can use to trade cryptocurrencies; supply and demand are just one of these strategies. Every strategy must use the underlying price of the asset to make its calculations, predictions, and forecasts accurate. The primary approaches to predicting Bitcoin BTCUSD's price development are known as technical analysis and fundamental analysis. By just looking at the underlying price movements, we should be able to identify potential price levels where supply and demand are out of balance.
Bitcoin is not an exception, cryptocurrencies also follow the supply and demand rules dictated by the market. How can we trade Bitcoin BTCUSD using price action and supply and demand? Well, even though it looks easy, we need to train our eye to locate certain price levels where the underlying asset could be out of balance. When looking at the attached weekly timeframe of BitCoin cryptocurrency, we can see that there are two strong bullish impulses at [3] and [4]. Those are the price levels we should be interested in. No matter what strategy you use, lagging indicators or oscillators, nothing can change the fact that those two bullish impulses have been created. When using indicators to plan a trade, you will see moving averages twisting to accommodate the change of the underlying price. The moving average may slope up at one time, and suddenly it may twist and start pointing down the very next moment.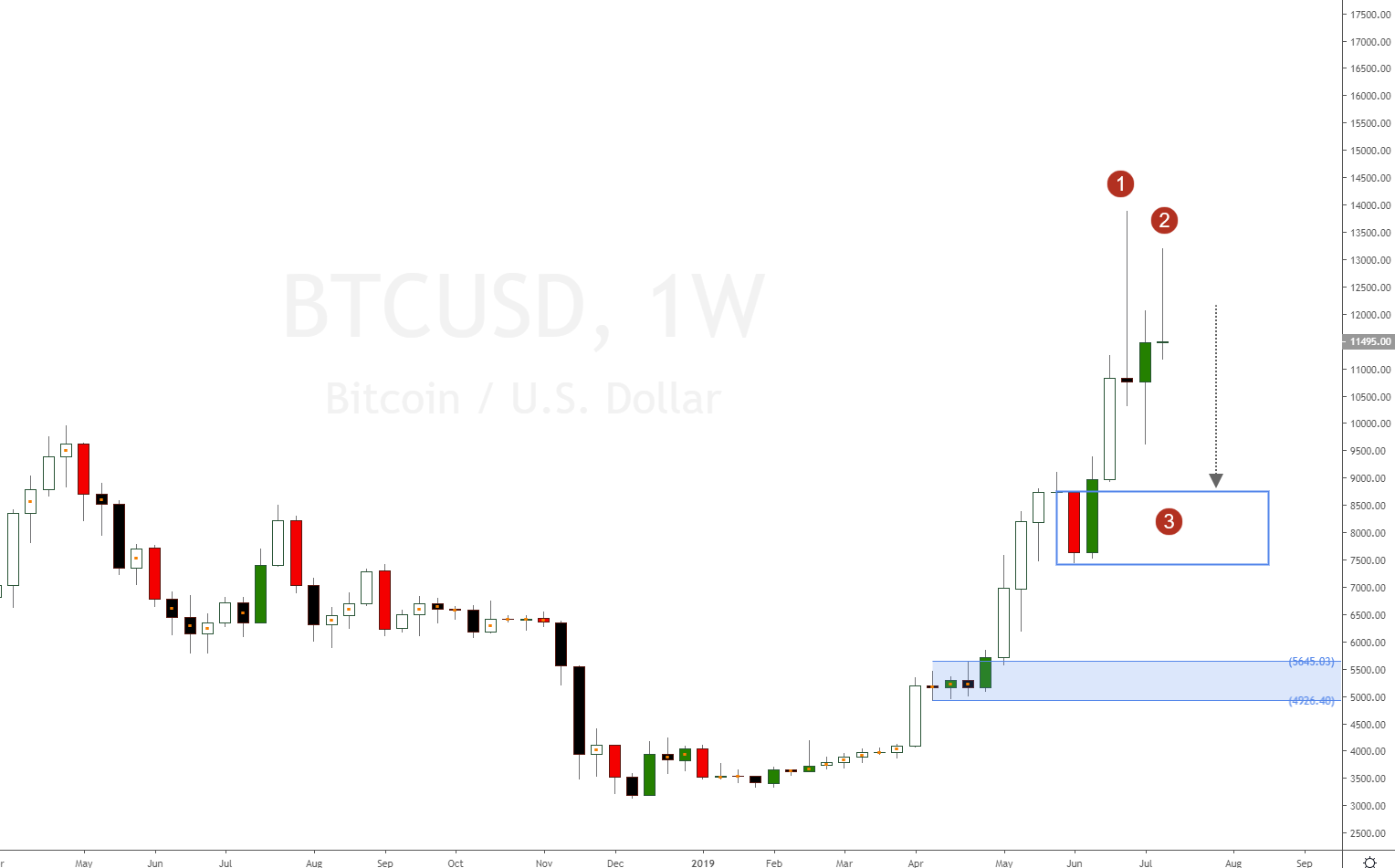 This won't happen if you use price action itself and the supply and demand imbalances created by those strong impulses. A weekly candle that closes on Bitcoin cryptocurrency at $11495 at the end of the trading week cannot just appear as closes at $11400 on Monday. Once the candlestick is closed, no further modifications are possible. This is the beauty of price action and using supply and demand imbalances created by the underlying asset. There are no second thoughts; price action is not lagging, it's what it is, and everything is based on it. You can make your cryptocurrency trading strategy as complex and difficult as possible, but nothing will change the fact that price action never changes.
If price action neither changes nor lags, why most cryptocurrency traders are using all kind of fancy strategies to plan their trades? They lean on indicators with fancy names, moving averages and all kind of tools that try to predict where the price is heading next day, while consistently ignoring the underlying movements represented by the price action itself and the supply and demand imbalances created by price action.
Take a look at Bitcoin cryptocurrency chart attached above. It represents a weekly timeframe for Bitcoin cryptocurrency. Every candle is worth a week of time. There are two clear bullish impulses at [3] and [4], nobody can't change the fact that those impulses have been created. There is no lag, no second thoughts; price action is fix and eternal. Nobody can't un-close a candlestick that is already closed.
It's the price levels we should be interested to plan our trades at. Price levels where the strength of the move is obvious and so strong that price will probably react to it if it reaches the price area in the same trending circumstances. As we can see in the attached Bitcoin BTCUSD cryptocurrency chart, there is a very strong rejection at [1] and [2] with a robust bearish pin candle formed. Buying Bitcoin Cryptocurrency with that strong rejection is not a good idea. You can learn how to trade cryptocurrency without looking at any indicators or reading about its supply and demand technical analysis.