Learn to trade Stocks, Forex and Futures with our Supply and Demand trading strategy

> Learn the skills to build a professional trader's mindset.
> Strict and methodical rule based supply and demand strategy with surgical accuracy entries
> Reduce your subjectivity completely and unlock your potential to analyze price action like never before.
> Spend only half an hour a day in your analysis. One day, one candle, one decision!
> Learn how to analyze price action using supply and demand institutional core principles.
> No lagging indicators, no volume, no news announcements, no earnings. Keep it simple!
> Methodology ideal for those with full time or part time jobs. You will have a life!
> Before the fact potential trades posted every week in the trading community
> Learn to auto correct yourself by using a mechanical set of rules

Supply and demand imbalances can be used on any market and timeframe: Stocks, Forex, Futures, ETFs, Commodities and Options. Use supply and demand zones to locate the exact zone to plan your Stock Options without expending half your life in from of your trading platform.

Learn how the market works, no more colorful or lagging indicators. No volume. No news or earnings announcements.

The imbalance of supply and demand is the only reason why price moves every market be it Forex, Stocks, Futures or Commodities. The greater the imbalance, the greater the move in price. Most traders are not aware of the power that a supply and demand Forex strategy can have. We're really good applying this logic when we want to buy some food at the supermarket, buy a bottle of wine or a car. We want to buy low and sell high, that's pretty obvious, isn't it? Would you buy your favorite bottle of wine worth $5 for $15? Of course you would not. Why would then most retailers buy a Forex currency pair or a Stock when price is so high? Ask yourself that question.

Become a member of a worldwide growing community of like minded supply and demand traders all trading with the same rules set
Belonging to a like-minded traders community has a lot of benefits. We all trade by the same rule set, anything outside these rules are not permitted. You will no longer cloud your mind with multiple strategies and entries, we are all trading supply and demand imbalances with a strict rules set. These rules and patterns can be spotted over and over again since the markets are governed universally by supply and demand. Becoming a member grants you exclusive access to the full trading course, lessons, hundreds of hours of archived webinars and weekly video analysis, as well as potential 'before the fact trade setups' posted throughout the week. No hindsight.


We plan trades way before they happen.
No hindsight or after the fact.

Anyone can show you trades once price has been reacting to the entry and are in profit. Creating a trading strategy based on hindsight analyses is very easy, anyone can do it. In Set and Forget trading community, we plan Forex and Stocks trades before the fact, way before they happen, no after the fact trades. You can also learn how to plan your trades way before they happen.
Read this GBPAUD analysis to learn more about it
. There are hundreds of trade examples like this planned in the trading community.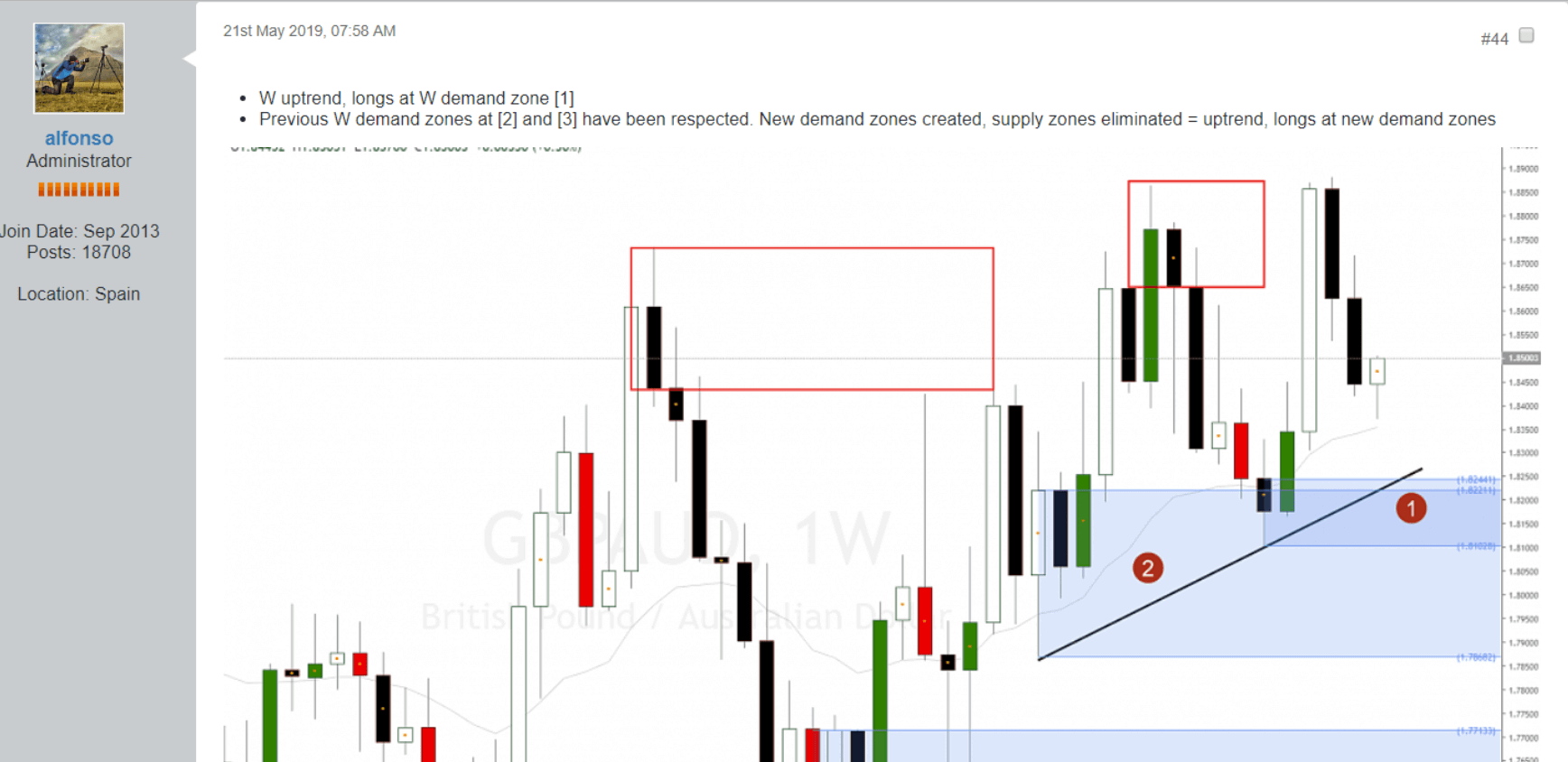 Supply and Demand Forex and Stocks Strategy. Learn to trade the Forex and Stocks market with us.
We will give you all the keys to learn forex and stocks trading and other markets with our supply and demand strategy.
Take advantage of potential trade setups posted every week in the community.

Myself, senior traders and forum members post their live trade setups in the members area, so you always have lots of eyes on the market. The community is a meeting place for supply and demand traders that want to learn how to trade Forex and Stocks as well as others markets like Commodities, Metals and Energy, Indexes and Futures. We don't believe in spending a few hours a day in a chat room talking about potential trade setups and banal things about life resulting in no trading at all. Trading should be boring, applying a rules set is actually boring. Trading is not a game you should get excited at.

Click on the video to watch an excerpt of the weekly video analysis for 27th June 2016.
Latest Supply and Demand Analysis Trade Setups